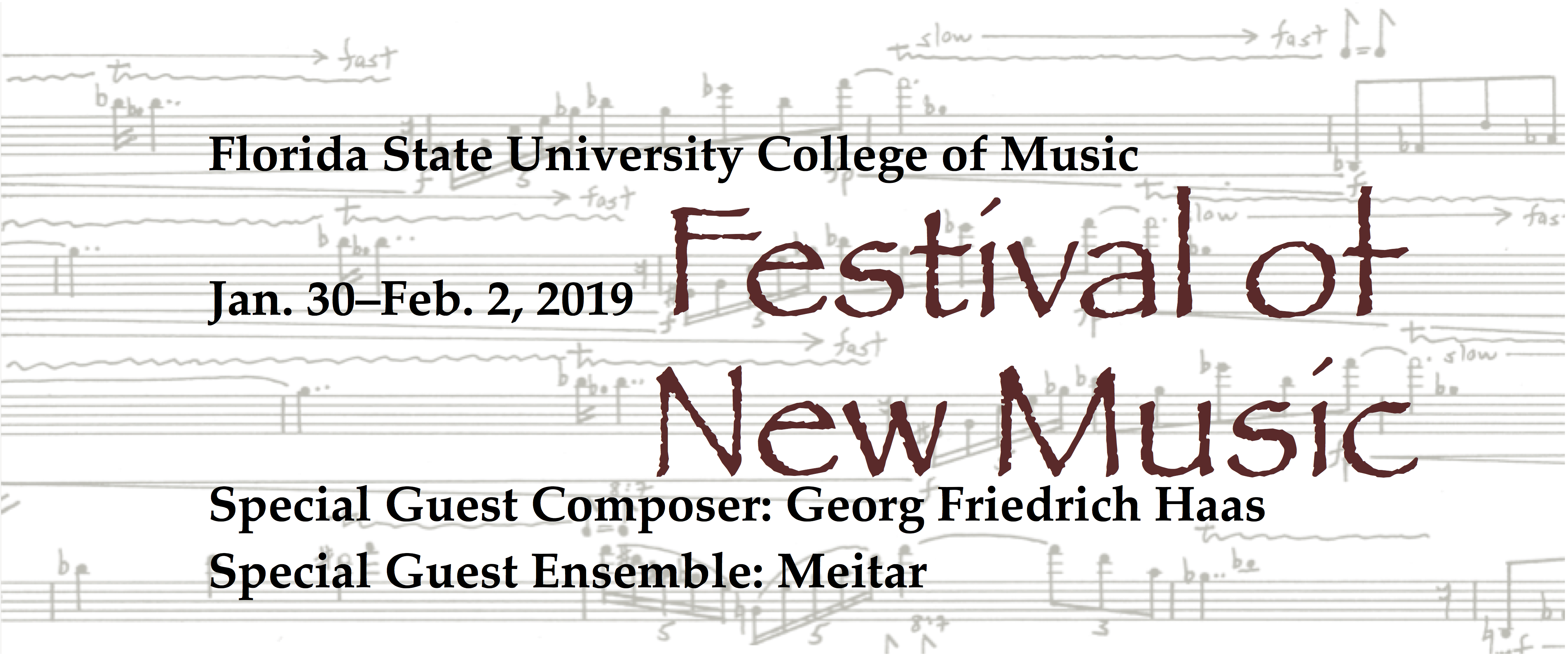 The 19th Biennial Festival of New Music will take place January 30 – February 2 on the campus of the Florida State University's College of Music. This year the festival will comprise seven different concerts featuring acoustic, electroacoustic, and multimedia compositions for both small and large ensembles.
Twenty-nine composers from across the country have been selected to attend performances of their works. The festival will also feature presentations, works, performances, and masterclasses by our special guest, composer Georg Friedrich Haas and Meitar Ensemble.
Featured Guest
Featured Guest
---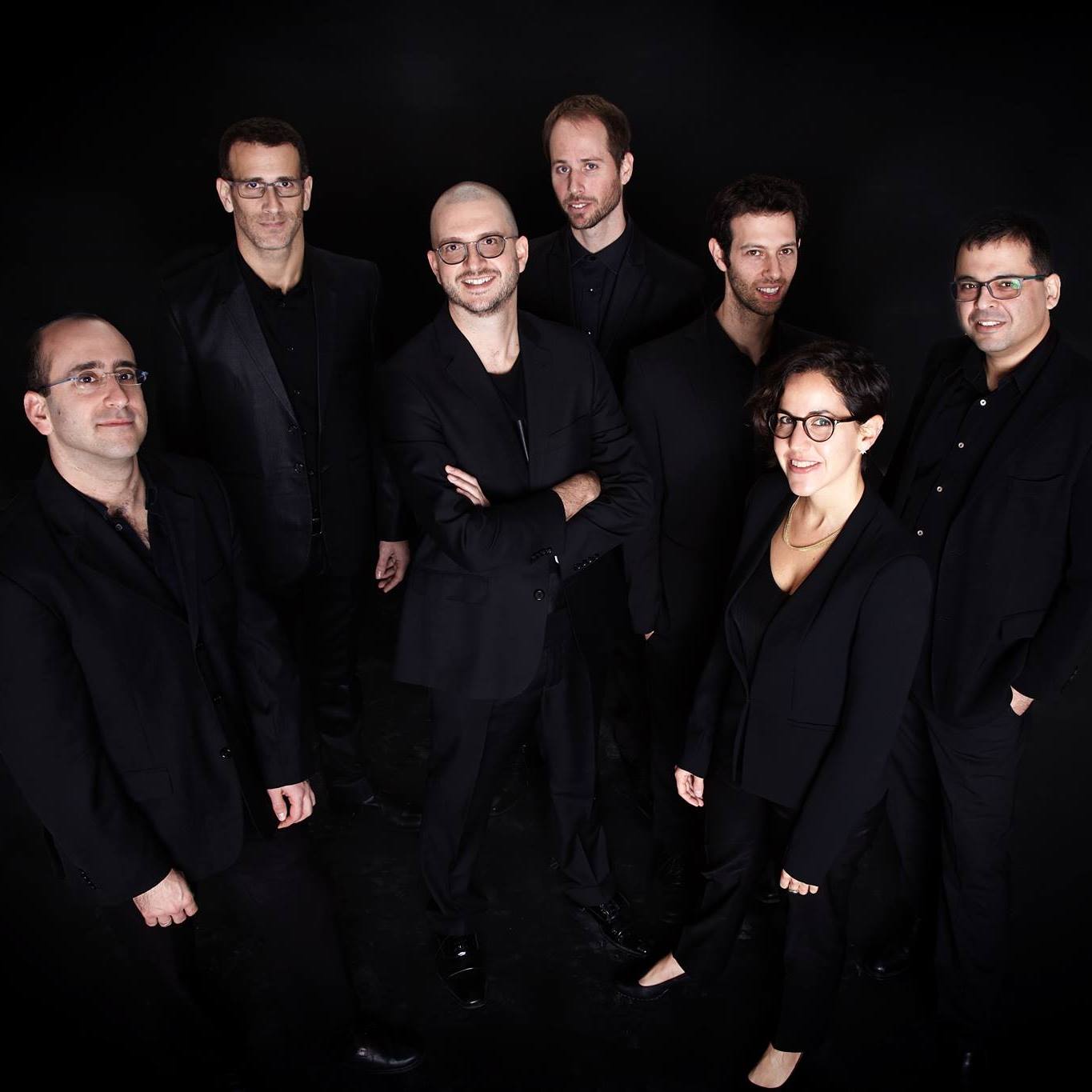 ---
Festival Composers
Ayal Adler · Talia Amar · Jenny Beck · Martin Blessinger · Clifton Callender · Alp Durmaz · Jason Fick · Ian Guthrie · Wan Heo · Aaron Houston · Chia-Yu Hsu · Joshua Keeling · Paul Koonce · Peter Van Zandt Lane · HyeKyung Lee · Wenxin Li · Janice Macaulay · Stephen Montague · Robert Morris · Ketty Nez · Niloufar Nourbakhsh · James Primosch · Jim Rhinehart · Paul Richards · Alejandro Rutty · Graeme Shields · Rob Smith · Ash Stemke · Stephen Taylor · John Wiggins · Mark Wingate · Nicholas Yamamoto · Roger Zare
events
Festival Events
(Unless otherwise noted, all events are free and open to the public.
Schedule details are subject to change.)
Wednesday, January 30
1:30 – 2:15 pm Registration
Opperman Music Hall (Lobby)
2:30 – 4:00 pm Meitar Ensemble masterclass
Lindsay Recital Hall
---
Thursday, January 31
10:00 – 10:45 am Registration
Opperman Music Hall (Lobby)
11:00 am – 12:30 pm Georg Friedrich Haas masterclass
Lindsay Recital Hall
2:30 – 4:00 pm Lecture Recital
Georg Friedrich Haas and Amit Dolberg, piano (Meitar Ensemble)
Hommage a Ligeti (1984) for one pianist playing two pianos tuned a quarter-tone apart
Westcott 060
5:30 - 6:15 pm Registration
Opperman Music Hall (Lobby)
6:30 pm Haas pre-concert lecture
Lindsay Recital Hall
7:30 pm Opening Concert (I)
Opperman Music Hall
Haas's Ein Schattenspiel
Durmaz, Heo, Kubík, Primosch, Rhinehart, Stemke
---
Friday, February 1
9:00 – 10:00 am Registration
Opperman Music Hall (Lobby)
10:10 am Chamber Concert (IIa)
Opperman Music Hall
Haas's I Can't Breathe (in memoriam Eric Garner)
Fick, Guthrie, Shields, Smith, Wiggins
11:15 am Chamber Concert (IIb)
Opperman Music Hall
Haas's Saxophone Quartet
Blessinger, Houston, Li, Rutty
2:00 pm Chamber Concert (III)
Opperman Music Hall
Haas's de terrae fine
Beck, Callender, Morris, Richards
4:30 – 6:00 pm Haas masterclass
Lindsay Recital Hall
7:30 pm Guest Artist Concert (IV)
Meitar Ensemble
Opperman Music Hall
Haas's Tria ex uno
Adler, Elkana, Grisey
---
Saturday, February 2
11:30 am - 12:45 pm Informational session with Meitar Ensemble:
"Collaborating with performers: advice for composers"
Dohnányi Recital Hall
1:00 & 4:00 pm Installation: Paul Koonce's Sisyphus in Situ
Longmire Recital Hall
2:00 pm Electro-Acoustic Concert (V)
Opperman Music Hall
Keeling, Lee, Montague, Nourbakhsh, Wingate, Yamamoto
6:30 pm Haas pre-concert lecture
Westcott 060
7:30 pm FSU Symphony Orchestra and Wind Orchestra Concert (VI)
(Concert will be live streamed at https://wfsu.org/television/live-stream.php. This concert is a ticket UMA event.)
Ruby Diamond Concert Hall
Haas's Traum in des Sommers Nacht
Hsu, Van Zandt Lane, Macaulay, Nez, Taylor, Zare
program
Festival Program
Thursday 7:30 pm
Opperman Music Hall
Subterranean River (2017)
Ladislav Kubík
Ein Schattenspiel (2004)
Georg Friedrich Haas
Unveiled Future (2018)
Wan Heo
Mitchell Eldridge, percussion
Peppercorn Suite (2018)
Jim Rhinehart
Galo Morales and Nick Childs, saxophones
The Infidel (2012)
Alp Durmaz
Eppes String Quartet: Nina Kim, violin; Pedro Maia, violin; Albert Magcalas, viola; Cheuk Yan Leung, cello
Currents (2014)
Ash Stemke
Eva Amsler, flute; Kelsey Paquin, clarinet; Anthony Poehailos, bass clarinet; Elizabeth King, soprano saxophone; Samantha Gowen and Bobby Malone, horns; Nicole Mann, bass; Keith Dodson, conductor
A Sibyl (2017)
James Primosch
Marcía Porter, soprano; Karen Large, flute; Deborah Bish, clarinet; Nina Kim, violin; Evan Jones, cello; Heidi Williams, piano; Justin Ball, percussion; Alexander Jimenez, conductor
---
Friday 10:10 am
Opperman Music Hall
form reform (2017)
Graeme Shields
I Can't Breathe (in memoriam Eric Garner) (2014)
Georg Friedrich Haas
Matthew Mignardi, trumpet
Lavelatia (2018)
Ian Evans Guthrie
Eirene Duo: Christina Lai and Xinshuang Jin, pianos
Think Outside (2018)
John Wiggins
I'm the Expert (2018)
Jason Fick
Morse Code Pop (2015)
Rob Smith
Eon Saxophone Quartet: Eric Stults, soprano saxophone; Dawson Coleman, alto saxophone; Joel Ferst, tenor saxophone; Zachary McKee, baritone saxophone
---
Friday 11:15 am
Opperman Music Hall
Exordium et Infra Furorem (2016)
Martin Blessinger
As You Say (2016)
Alejandro Rutty
Tracy Morgan and Taylor Giorgio, violins; Kelsey Paquin, clarinet
Scuttle Buttin' (2018)
Aaron Houston
Amy Selkirk, oboe; Amy Humberd, clarinet; Alex Charles, bassoon; Camilla Caldwell and Ashtin Johnson, violins; Alan Elkins, viola; Holden Bitner, cello; Nicole Mann, bass; Aaron Vaughn, conductor
Song of Wind (2018)
Wenxin Li
Saxophone Quartet (2014)
Georg Friedrich Haas
Geoff Deibel, soprano saxophone; Galo Morales, alto saxophone; Nick Childs, tenor saxophone; Elizabeth King, baritone saxophone
---
Friday 2:00 pm
Opperman Music Hall
Inner Voices (2016)
Robert Morris
de terrae fine (2001)
Georg Friedrich Haas
à la manière de ... (2018)
Clifton Callender
Long It Glows (2017)
Jenny Beck
New Music Ensemble
Kayla Hanvey, flute; Lara Mitofsky-Neuss, bass clarinet; Wan Heo, violin; Harrison Reed, cello; Ashlee Allaire and Mitchell Martin, percussion; Philip Nichols, piano; Michael Griffith, conductor
Ouroboros (2017)
Paul Richards
New Music Ensemble
Alan Berquist, flute; Anthony Poehailos, clarinet; Dana Judy, violin; Cheuk Yan Leung, cello; Frank Kuhny, piano; Julia Baumanis, conductor
---
Friday 7:30 pm
Opperman Music Hall
Meitar Ensemble
Hagar Shahal, flute; Mathieu Steffanus, clarinet; Marco Fusi, violin; Yoni Gotlibovich, cello; Amit Dolberg, piano; Pierre-Andre Valade, conductor

Colors of Dust (2013)
Ayal Adler
Talea (1986)
Gérard Grisey
Tria ex uno (2001)
Georg Friedrich Haas
Cameron Brown, percussion
---
Saturday 1:00 & 4:00 pm Installation
Longmire Recital Hall
Sisyphus in Situ (2017)
Paul Koonce
24-channel fixed-media wave field synthesis
---
Saturday 2:00 pm
Opperman Music Hall
Tigida Pipa (1983)
Stephen Montague
Justin Ball, Christian Martin, Ashlee Allaire, and Emily Salgado, percussion and voice
Montague: DECODED! (2018)
Mark Wingate
Namandu (2018)
Joshua Keeling
Geoff Deibel, performer; interactive media
F I X E D HbeaRt (2017)
Niloufar Nourbakhsh
Yingying Wang, piano; live electronics
Fixed Objects on a Moving Plane (2017)
Nicholas Yamamoto
Shades of Clouds (2014)
HyeKyung Lee
Jihye Chang, piano; fixed media
---
Saturday 7:30 pm
Ruby Diamond Concert Hall
University Wind Orchestra
Rick Clary, director



Kaleidoscope (in memory of Karel Husa) (2017)

Janice Macaulay

Chandler Wilson, conductor

four scenes for Juliet (2016)

Ketty Nez

Hivemind (2014)

Peter Van Lane

Julia Baumanis, conductor

University Symphony Orchestra
Alexander Jiménez, music director



Inferno (2014)

Roger Zare

Aaron King Vaughn, conductor

Shan Ko (2009)

Chia Yu Hsu

Aaron King Vaughn, conductor

Sunset in All Directions (2018)

Stephen Taylor

Greg Sauer, cello; Alexander Jiménez, conductor

Traum in des Sommers Nacht (2009)

Georg Friedrich Haas

Alexander Jiménez, conductor
notes
Program Notes and Bios
Jenny Beck grew up in rural Pennsylvania where the sounds of the woods stirred her imagination at a young age. She went on to study composition at the Peabody Conservatory and Princeton University, where she is currently pursuing a PhD. Jenny has participated in workshops and festivals including the UC Davis Composition Workshop, the Copland House CULTIVATE Institute with Derek Bermel, the Norfolk New Music Workshop, Atlantic Center for the Arts Residency with Martin Bresnick, June In Buffalo, the Wellesley Composers Conference, the Tanglewood Music Center, and the Weill Music Institute Professional Training Workshop at Carnegie Hall with Kaija Saariaho and Anssi Karttunen. This past summer, she was the Kaplan Fellow in composition at the Bowdoin International Music Festival.
Long It Glows: On Shelter You can write on a wall with a fish heart, it's because of the phosphorus. They eat it. There are shacks like that down along the river. I am writing this to be as wrong as possible to you. Replace the door when you leave, it says. Now you tell me how wrong that is, how long it glows. Tell me. -Anne Carson, Plainwater
---
Martin Blessinger is an Associate Professor of Music at Texas Christian University. He holds a D.M. in music composition from the Florida State University, where he was a University Research Fellow, studying with Ladislav Kubik and Ellen Taaffe Zwilich. He received undergraduate and master's degrees from SUNY at Stony Brook, studying with Sheila Silver and Perry Goldstein. Prior to arriving TCU, he worked as a Lecturer in Music Theory at Ithaca College. His works have been performed around the country and abroad by numerous professional and collegiate ensembles. Further, he has won awards from the Diana Barnhart American Song Competition (for Cradle Song), the Eppes String Quartet Competition (for Postcard from the Americas), the Illinois Wesleyan University Young Composers Competition (for Fanfare for Brass Quintet), the NACUSA Young Composers Competition (for Duo for Saxophone and Piano), and ASCAP. His music is published by Reed Music and C. Alan Publications.
Exordium et Infra Furorem (roughly ìIntroduction and In a State of Furyî) is a virtuosic two-movement work for solo violin. The first movement, Exordium, began its life as a flute etude. As my concept of the piece developed, it became clear that the musical material was not appropriate for the etude project, and so I decided to adapt it for solo violin. The title of this movement is Latin for "beginning" or "introductionî to capture the prelude-like atmosphere of the music. The second movement, Infra Furorem, is fast-moving and aggressive, featuring tempestuously shifting emotions. I wrote this movement as a counterbalance to the stoicism and reserved stateliness of the first.
---
Clifton Callender is Professor of Composition at Florida State University, teaching composition, music theory, music programming and computation, and serving as Artistic Director of the FSU New Music Ensemble. He holds degrees from the University of Chicago, Peabody Conservatory, and Tulane University. In Fall of 2018 he was in residence at the Copland House. His works are recorded on the Capstone, New Ariel, and Navona labels. Recent commissions include Chain Reactions, for the 75th commemoration of Chicago Pile 1 (the first nuclear reactor), Canonic Offerings and Hungarian Jazz, for the Bridges Conference on the Arts and Mathematics, gegenschein, for Piotr Szewczyk's Violin Futura project, and Reasons to Learne to Sing, for the 50th Anniversary of the College Music Society. His music has been recognized by and performed at the Spark Festival, SEAMUS, Forecast Music, Composers Inc., the Florida Electracoustic Music Festival, the American Composers Orchestra, the International Festival of Electroacoustic Music "Primavera en La Habana," NACUSA Young Composers Competition, the Northern Arizona University Centennial Composition, the North American Saxophone Alliance Biennial Conferences, the World Harp Congress in Copenhagen and the ppIANISSIMO festival in Bulgaria. He is currently working a setting of Kathy Jetnil-Kijiner's poem for the 2014 United Nations Climate Summit, Dear Matafele Peinam.
I composed the first of these preludes on a lark after studying numerous passages of Chopin consisting of staggered chromatic lines descending in all voices. Unsure what to do with such a brief, seemingly backward-looking piece, it remained dormant. A few years later, having written the second prelude on somewhat less of a lark, the set of six tributes to musical forebears began to take shape. In each prelude some aspect of a composer's style, technique, or even specific fragments form the basis for my own take. The preludes were not intended to be stylistic exercises or parodies, but rather opportunities to explore without inhibition elements (latently) present in my own voice. The title itself, a la manière de …, is a reference to Ravel's own works synthesizing his voice with the styles of Borodin and Chabrier/Gounod.
---
Alp Durmaz was born in Istanbul/Turkey in 1974. He started studying music with private lessons until he entered Bilkent University Faculty of Music and Performing Arts Composition Department in 1994. After his graduation in 2000, he continued his music studies with Turkey's leading composers and workshops he attended in Europe and Turkey. In 2010 and 2011, he won four prizes in International Music Prize Composition Award. In 2014, Bustling was performed by pianist Nicolas Horvath at Glass Worlds event which was organized as a tribute to Philip Glass. This piece was also performed in Perpignan, Kiev, New York Carnegie Hall, and Netherlands. In 2015, "Asylum Confessions" was performed at Sureyya Opera House, and "Mental Diversions" was performed in Cappadocia.
The Infidel is minimalist single movement work for string quartet. It was first performed in 2013 in Turkey and received affirmative critics from both academists and audience. Rhythmic variations and cascading chords form the general characteristic of the piece.
---
Amos Elkana was born in 1967 in the USA and grew up in Israel. He has been composing professionally for almost 30 years. His oeuvre includes orchestral, chamber and electroacoustic works. His compositions are performed and recorded internationally and have been commissioned for concerts, modern dance, theatre, visual arts, and films. His works have been performed, among others, at Carnegie Hall, Konzerthaus Berlin, and the Museum of Art in Tel Aviv.
In Tripp I have used a series of numbers as a fractal in order to create the structure of the composition and the proportions within it. This is a technique I use often. It creates a form where the micro and macro levels have the same proportions. Exactly as it is in fractal geometry where zooming into a part of the whole reveals that it looks exactly like the whole. While searching for a title for this piece I googled the number series that I used and a zip-code of a small town in South Dakota came up. The town's name is Tripp …. This piece was commissioned by the Barlow Endowment for Music Composition at Brigham Young University for the Meitar Ensemble. It was premiered at Meitar's 2016-2017 season opening concert on October 29th 2016 in Tel Aviv.
---
Jason Fick is currently Assistant Professor and Coordinator of the Music Technology and Production program at Oregon State University. He is an active composer, audio engineer, and educator. His music and intermedia works have been performed at international, national, and local events, including the International Computer Music Conference (ICMC), the International Horn Symposium (IHS), the Society for Electro-Acoustic Music in the United States (SEAMUS), and the American College Dance Association (ACDA). As an engineer, he has recorded classical, jazz, and popular music in live and studio contexts, audio for film, and dialogue for various commercial projects. Jason holds a Ph.D. in Music Composition with a specialization in Computer Music from the University of North Texas. Prior to arriving in Corvallis, Jason taught at Collin College and the Art Institute of Dallas. His present research pursuits are in computer music, interactive systems, and the pedagogy of music technology.
In 2014, the city of Denton, Texas successfully banned fracking. This action was considered landmark and the story received international publicity. The railroad commission chair of Texas soon overturned the ban. I'M THE EXPERT shares some of the stories of Dentonís residents and the effects of fracking on their lives.
---
Gérard Grisey was born in Belfort on June 17th, 1946. He studied at the Trossingen Conservatory in Germany from 1963 to 1965 before entering the Conservatoire National Supérieur de Musique in Paris. Here he won prizes for piano accompaniment, harmony, counterpoint, fugue and composition (Olivier Messiaen's class from 1968 to 1972). During this period, he also attended Henri Dutilleux's classes at the Ecole Normale de Musique (1968), as well as summer schools at the Accademia Chigiana in Siena (1969), and in Darmstadt with Ligeti, Stockhausen and Xenakis in 1972.
He was granted a scholarship by the Villa Medici in Rome from 1972 to 1974, and in 1973 founded a group called L'Itinéraire with Tristan Murail, Roger Tessier and Michael Levinas, later to be joined by Hugues Dufourt. Dérives, Périodes and Partiels were among the first pieces of spectral music. In 1974-75, he studied acoustics with Emile Leipp at the Paris VI University, and in 1980 became a trainee at the I.R.C.A.M. In the same year he went to Berlin as a guest of the DAAD (Deutscher Akademischer Austausch Dienst), and afterwards left for Berkeley, where he was appointed professor of theory and composition at the University of California (1982-1986). After returning to Europe, he has been teaching composition at the Conservatoire National Supérieur de Musique in Paris since 1987, and holds numerous composition seminars in France (Centre Acanthes, Lyon, Paris) and abroad (Darmstadt, Freiburg, Milan, Reggio Emilia, Oslo, Helsinki, Malmö, Göteborg, Los Angeles, Stanford, London, Moscow, Madrid, etc.).
Gérard Grisey died in Paris on 11 November 1998.
Among his works, most of which were commissioned by famous institutions and international instrumental groups, are Dérives (1973-1974), Jour, Contre-Jour(1978-1979), Tempus ex Machina (1979), Les Chants de l'Amour (1982-1984),Talea (1986), Le Temps et l'Ecume (1988-1989), Le Noir de l'Etoile (1989-1990),L'Icône paradoxale (1993-1994), Les Espaces Acoustiques (1974-1985 - a cycle consisting of six pieces), Vortex Temporum(1994-1996), Quatre chants pour franchir le seuil (1997-1998).
"Talea," in Latin, means cutting. In medieval music this term designates a reiterated rhythmic pattern to which a configuration of pitches called "color," likewise reiterated and coinciding or not with the first, is grafted. In the twentieth century we have rediscovered this dissociation between pitches and durations. The idea of a "cutting" of the initial idea, of putting the various rhythmic structures in phase and out of phase, as well of a structure in two parts in which the second could easily be termed "color", have suggested the title of this quintet to me.
In Talea, I tackle two aspects of musical discourse from which my research on instrumental synthesis, on micro-phonics and on contiguous transformations had estranged me, that is, speed and contrast. Talea consists of two parts linked together without interruption that express two aspects or, more precisely, two auditory angles of a single phenomenon. Thus this single gesture (fast, fortissimo, ascending - slow, pianissimo, descending) is presented in the first part by durations of medium length and gradually eroded to the point of leveling off the contrasts. In the second part, it expresses the overall form and the succession of sequences. It is polyphonic in the first part and homophonic in the second.
From the perceptual point of view, the first part seems to me like an inexorable process, a veritable machine for forging the freedom, which will emerge in the second part. The course of the latter is in fact pierced by more or less irrational emergences, kinds of recollections from the first part, which gradually assume the color of the new context until they become unrecognizable. These wild flowers, these rank weeds pushing up in the interstices of the machine, grow in importance and then overflow until they give the sections unto which they have wormed their way like parasites an entirely unexpected coloration.
---
Ian Evans Guthrie is emerging as a tour-de-force composer and pianist. He recently won 1st prize in the Arcady Composition Competition, 2nd place in the American Prize-Chamber Music Division (the only 2017 vocal work to receive recognition recognition in this category), and 2nd prize in the Great Composers Competition: Music of America, in addition to his many other prizes and recognitions from ASCAP, SCI, MTNA, NFMC, and other national and regional music organizations and clubs. In addition, many of his works have been performed publicly around the world by the Indaco String Quartet, fEARnoMUSIC, Metropolitan Youth Symphony, Northwest Symphony Orchestra, Moore Philharmonic Orchestra, Erik Drescher, Sarah Dunham, and others, and featured at festivals internationally. Guthrie is a doctoral student at Florida State University, where his teachers include Mark Wingate, Ellen Zwilich, and (formerly) Ladislav Kubik.
I began sketching Lavelatla in early Fall 2017 as ideas for orchestra or two pianos. All I knew about the sketch was that it could appropriate my interests in world music, particularly that of the Caribbean. This project came into fruition well after I approached my colleague Xinshuang Jin about my interest in writing a work for two pianos, when she commissioned me to compose such a work in April 2018. I then took my knowledge of electronic music, world, music, spatialization, acoustics, and orchestration to create an innovative piano duet imitating the many effects available in these fields, such as panning, Shepard tones, unusual staging, spectralism, and other effects that have been relatively unexplored in piano literature. Considering the fiery nature and other associations conceived with the sketches and my interest in Native American names for landmarks, I settled with the title Lavelatla (meaning ìSmoking Mountainî)óthe Cowlitz tribe's name for Mount Saint Helens.
---
Georg Friedrich Haas has been associated with Ricordi Berlin since autumn 2016. He has taught at the University of the Arts in Graz (lastly as associate professor) and at the Music Academy in Basel. In 2013 he was appointed professor of music at Columbia University in New York and since then has taught composition there. Haas feels both rooted in the European tradition and strongly in uenced by the aesthetic freedom of American composers like Charles Ives, Harry Partch, John Cage and James Tenney. He also has repeatedly made reference to the musical mysticism of the composers Giacinto Scelsi and Ivan Wyschnegradsky. In a survey published in the January 2017 issue of the Italian music periodical Classic Voice, 100 named experts were asked to choose "the most beautiful music composed since 2000." By a wide margin, they awarded first place to Haas. His wide-ranging output, including numerous works for large orchestra, for chamber orchestra, instrumental concertos, eight operas, ten string quartets, a variety of other chamber music and vocal works etc., is constantly nding new audiences worldwide – and not only at special new music events; his compositions are also reaching a traditionally schooled public. Haas has devoted his work to the utopian ideal (not 100% attainable) of creating a new music that is both expressive and mellifluous – not despite but because of the fact that it is new.
"At the end of the earth." (de terrae fine) Haas wrote the piece at a house in south-west Ireland, looking out at the Atlantic, but the sense of the title is more than geographical. The violinist, and the violin, are under limit conditions, pressed to extremes. Intervals involving quarter-tones are the norm; there are also sixth-tone intervals and even eighth-tone fluctuations, as well as intervals to be played in just intonation. Meanwhile, the music sets out within cramped spaces. There is a line that budges at first just within the instrument's bottom register, and occasional alternations to pizzicato do not widen the scope. High harmonics seem no more than punctuation marks, and a sudden luminous sound — a just-tuned major third — soon gives way to intense discords of a seriously minor second (i.e. two notes a quarter-tone apart). However, more light comes from arpeggios, and the line starts to rise and goes on rising. There are also new events, including, about two-thirds of the way through the seventeen-minute piece, a flow of just-tuned thirds, "as if coming from another world," as the marking has it. The intervals tighten as before, but the music has been set in a new direction, and there is no stopping it — not even with a noisy recollection of its original line — until it is done.
– Paul Griffiths
---
Shadows are not solely silent and not solely analogue companions. By choosing the projected image out of a plethora of possible aesthetic varieties Georg Friedrich Haas decides on a variant with the pianist foreshadowing them. The electronic means: the played material is recorded live and then repeated—transposed a quarter tone higher—with an initial delay of 24 seconds to the piano. While the work continues the tempo of the echo playback is increased by the factor 32/33. The sound of the piano itself remains electronically unmodifed. The course of the playback results in most accurately calculated pulsating parallels between the realtime-performance and the playback recording; however due to the time-lapsed playbacks its positions do not allow an exact temporal correspondence. Like the moon penetrating the shadow of the earth, like in a lunar eclipse where the cosmic shadow play reaches a congruent form, here the shadow of the sound follows the performer at increasingly shorter intervals until the permanent diference between the sender of the sound and its transformed echo is set to zero by the end of the piece. In the delicate sound world of the Austrian composer, in which once again evening and nocturnal atmospheres spin their eerie webs, changes of the tonal and harmonic possibilities of the traditional scale are given a major space through the means of microtonality or experiments with pending overtone constellations. In his "Shadow Play" (Ein Schattenspiel) he quotes the quartertone music of Ivan Wyschnogradsy and his tempered halving of major sevenths, as well as the music of Richard Heinrich Stein, in which tonal chords are connected by means of voicing in quartertone intervals. In his interpretation Haas has been interested especially in historical aspects of the shadow play: "The musician is constantly confronted with what he has just played. The live electronic is confronting him with his very own history. Finally he will be overtaken by this very history."
Therese Muxeneder, Arnold Schönberg Center (Translation: Indra Wussow)
---
I Can't Breathe was commissioned by the Musikfabrik Ensemble and supported by the Ministry of Families, Children, Youth, Culture and Sports, Province of Rhineland-Westphalia.
I live in the USA. I like it here. It is a wonderful country with wonderful people and wonderful culture.
But …
When I walk on a lonely street in New York in the evening, I am afraid. Of criminals. If my skin were black, I would be more afraid of the police than I am of criminals.
Eric Garner has become a symbol.
He had doubly bad luck. On the one hand, he was in the wrong place at the wrong time. But above all, his skin was the wrong colour. His offence: he had bought cigarettes. And he was African-American. The police thought he was a black marketeer and acted accordingly. During this official action he suffocated – he was asthmatic. His last words were "I can't breathe!"
Those who brought about his death were not even indicted – they did not have to stand trial in any court.
That was not just one isolated case.
Protest stirred. "Black Lives Matter!" was the slogan heard throughout the land at much-noted demonstrations. I declare my solidarity with that protest in this work.
I can't breathe for solo trumpet in memoriam Eric Garner begins quite traditionally with a dirge: a free cantilena in twelve-tone space. Then the intervals constrict; the song becomes more and more smothered, ultimately in a 16-note scale. The dirge constricts within a sonic space of other trumpet notes of extreme registers and changing colours – cautionary symbols, perhaps, of the world from which the victim was violently torn away.
I give no notes to the perpetrators.
---
Scored for the standard sextet that adds a percussionist to the line-up of Schoenberg's Pierrot lunaire (flute, clarinet, violin, cello, and piano), this twelve-minute piece (Tria ex una) exemplifies Haas's reworking of historical material, based as it is on the second Agnus Dei from a mass by Josquin, his Missa "L'homme armé" super voces musicales, i.e. mass on the much used "L'homme armé" tune, transposed in each movement to a new, higher degree of the scale C–D–E–F–G–A. Admired in its time, this was the setting chosen to open a volume of Josquin's masses that was printed in 1502, the music's most astounding feature being its control of harmony under fearsome conditions of polyphonic complexity.
The section that appealed to Haas was one that Renaissance theorists quoted regularly with approval, for it is a faultless "mensuration canon," a canon whose voices go at different speeds. This example has three voices and so three speeds, the tenor being the slowest, the bass, a fifth below, twice as fast, and the third voice, an octave above the bass, three times as fast. The melody is the same for each voice, but, of course, the slower voices have less of it than the fastest. Three-part counterpoint comes from a single line: three from one, or, as Haas's title has it, "tria ex uno."
Haas takes the three-from-one principle a step further, to create a work in three sections. The first straightforwardly assigns Josquin's vocal parts to instruments: bass clarinet for the tenor, with cello below and violin above. In the second, going on from the example of Webern's Bach arrangement, Haas distributes the parts around the whole sextet, "with the purpose of making clear the motivic relationships by differentiating the sounds." Thus, for example, the first melodic interval, a rising minor third, is given to the woodwind instruments: alto flute for the first voice (D–F), being the fastest and uppermost, then bass clarinet (D–F an octave below), then alto flute again (A–C).
"The third part," Haas writes, "is a new, freestanding composition, in which the music of the Agnus Dei is paraphrased, transferred, and painted over." This is a very much longer installment (180 measures to the 25 of the Josquin, whether straight or Webernized), and it takes us a huge step further into Haas's personal world of fragility and half-light, of microtonal deviations and uneasy permanences — also, at times, of startling vehemence. Like the Josquin, the movement begins with the sonority D–A–D, but now extended to make a whole slow, generally quiet introduction, where the notes tremble and rotate in color while their pitches are deformed (re-formed, one might better say) by quarter-tone departures that carry them toward their chromatic neighbors. It is by this process of creeping distonation that the next note of the Josquin is reached, F, but not until measure 22. From there, with growing drama, the piece develops interference patterns between just intonation (the kind Josquin probably expected) and equal temperament. The repeating notes of the original also have their consequences.
– Paul Griffiths
---
Born in Seoul, South Korea, Wan Heo is pursuing her Masterís at Florida State University with Clifton Callender where she teaches undergraduate Aural Skills as a Teaching Assistant. Wan holds a Bachelorís in Music from Ewha University, South Korea, where she was awarded a scholarship for notable achievements in 2015. During her undergraduate career her string quartet, Three C in Mobile, was selected to be performed at the composition departmentís spring concert in 2014. Wan aims to write music that is sympathetic and delightful, in which an active communication occurs between and amongst the composer, the performers, and the listeners. Starting from a rough plan, Wan composes music as an explorer, focusing on how sounds will make her, and her audience feel. Her works have been performed in Seoul, Singapore, and the United States, by performers including Keuris Quartet (Netherlands), and Eppes Quartet (Florida State University).
Unveiled Future is composed after reading the book Sapiens: A Brief History of Humankind written by Yuval Noah Harari. While describing important revolutions which made current humankind and the world, the author points out that humans never could predict the exact result of those revolutions. For example, agricultural revolution led to population explosions and forced humans to work harder than when they were foragers, and the invention of home appliances made the world go faster so that people are expected to do more work in the same amount of time. In the last chapter, the author talks about scientific revolution, especially about genetic engineering. He argues that even though no one can predict all possible results of consistent development of genetic engineering, humans will never stop. Through Unveiled Future, I aim to depict our desire towards the better future, that we always hope to be more developed and constantly progress to another significant revolution. In the contrasting part, I tried to express the negative effects, damage, and questions on the other side. The parts are alternated, but each part is modified as the piece gets to the end and finally, both parts are combined as one part. The overall structure of the piece reflects my personal question around the consistent development, hoping to become a part of desirable and peaceful world.
---
Aaron Houston Aaron Houston composes music that draws from the diverse influences of the American musical language for the everyday concert audience. His eclectic influencesófrom rock music to folk tunes, chorales, and everything in betweenócan be heard in his use of harmonies and intuitive melodic writing. Taking inspiration from Wagner and Guns Ní Roses, his composition Reconciliation (2017) juxtaposes a variety of these influences against each other before finding resolution in an ever-ascending statement of a Bach chorale. Similarly, Scuttle Buttiní (2018), was inspired by the sounds of Texas Blues legend Stevie Ray Vaughan and recalls the sounds of a young guitarist learning to mimic the playing of Stevie Ray Vaughan. Currently, Aaron is pursuing his DM in Composition at Florida State University where he has studied with Stephen Montague, Ellen Taafe Zwilich, and the late Ladislav Kubik as the recipient of the Ellen Taaffe Zwilich Fellowship for orchestral composition.
When asked to compose a piece which responded in some way to folk songs or storytelling, I was immediately excited. Remembering all the times in middle school and high school sitting in front of a TV watching an old VHS tape of live Stevie Ray Vaughan concerts quickly sparked the inspiration for this composition. While learning to play guitar, I would sit and watch that VHS tape and hope I would one day be able to play like the man who helped define what Texas blues was for me (spoiler alert: I canít play guitar like Stevie Ray Vaughan). Scuttle Buttiní is a fast-paced, highly energetic work inspired by the tune from Stevie Ray Vaughan of the same name. A ìscuttle buttî is an old term for a water cooler and ìscuttle buttiníî is an old term for gossiping around the water cooleróhow stories get told a lot in the South. Scuttle Buttiní is full of quotations from blues riffs, harmonies which evoke a jazz-based sound, and aggressively picked and slapped bass to mimic the sounds of a Texas blues band.
---
Born in Banqiao, Taiwan, Chia Yu Hsu was the winner of Lakond prize from the American Academy of Arts and Letters, Left Coast Chamber Ensemble composition contest, grand prize from Symphony Number One, Suzanne and Lee Ettelson Composerís Awards, 2016 and 2013 IAWM Search for New Music, Copland House Award, music+culture 2009 International Competition for Composers, the Sorel Organizationís 2nd International Composition Competition, the 7th USA International Harp Composition Competition, ASCAP Morton Gould Young Composerís Awards, the Maxfield Parrish Composition Contest, the RenÈe B. Fisher Foundation Composer Awards among others. Her work has been performed by the London Sinfonietta, the Detroit Symphony Orchestra, the San Francisco Symphony, the Nashville Symphony, the Toledo Symphony, the American Composers Orchestra, the Cabrillo Festival Orchestra, the Flagstaff Symphony Orchestra, Aspen Music Festival Contemporary Ensemble, Eighth Blackbird, Ciompi Quartet, and Prism Quartet.
Shan Ko employs material derived from Hakka music. There are various types of Hakka mountain songs, with an abundance of lyrical content. The song-type associated with my piece is called Lao-shan-ko (old mountain songs), which are among the oldest and simplest of Hakka folk song-types. Lao-shan-ko is the name of one such tune, which I have referenced. I am particularly drawn by its use of the minor triad and the libre feeling of the original tune. As a result, many minor triads juxtaposing with the predominantly pentatonic harmony are deployed to explore various timbres between different instrumental groups in the piece. Many times, the melodic fragments are stretched and heavily decorated. Sometimes the echoes of those fragments are produced between instruments. It is the spirit of freedom and spacious acoustics in the mountains that I have tried capture.
---
Joshua Keeling is an adventurous voice in new music, writing works for chamber ensembles, orchestra, wind ensemble, electroacoustic compositions, and other media. He was awarded first prize in the Beyer Awards from the National Federation of Music Clubs. His music has been performed both nationally and internationally at a number of venues including: the World Saxophone Congress, North American Saxophone Alliance National Conference, Red Note New Music Festival, the Society of Electro-Acoustic Music (SEAMUS) National Conference, the Toronto Electroacoustic Symposium, the San Francisco Festival of Contemporary Music, and many others. He received his D.M. from Florida State University. Additionally, he has studied at the University of Texas at Austin (M.M.), the Hochschule f¸r Musik Carl Maria von Weber (Dresden, Germany) and Belmont University. Dr. Keeling has taught at Illinois State University, Illinois Wesleyan University, and Collin College. Visit joshuakeeling.org to learn more.
—amand˙ is the creator god of the Guarani people. In their folklore, —amand˙ created himself out of the darkness and then proceeded to create the world. From the beginning, the Hummingbird was present, and sustained and refreshed —amand˙ as he created. "Our Father, the Absolute First created himself from the primordial darkness. He created the divine soles of his feet, His small round throne. He created them as he grew in the primordial darkness. Flowers adorned his divine feathered headdress like drops of dew; And amidst the flowers of his sacred feathered crown Hummingbird, the primeval bird, gamboled and flew. Even while our first Father created his own divine body, He existed in the midst of the primordial winds. Before he conceived his future earthly dwelling, before he conceived his future heavens, his future earth ó Hummingbird refreshed his mouth. It was Hummingbird who sustained —amand˙ with the fruits of paradise.
---
Paul Koonce (b.1956) studied composition at the University of Illinois and the University of California, San Diego where he received the Ph.D. in Music. He is the recipient of fellowships from the Guggenheim and McKnight Foundations, and has received awards and commissions from the Luigi Russolo Competition, the National Flute Association, Prix Ars Electronica, IMEB, ICMA, and Dartmouth College. His music is available on CD from SEAMUS, Mnemosyne, ICMA, Panorama, Innova, Einstein, Centaur, Computer Music Journal, and Mode records. He holds the position of Professor Emeritus of Music at the University of Florida.
In Sisyphus in Situ, my second composition realized using wave field synthesis, we donít see Sisyphus, but rather hear him through wobbling sounds selected to depict the step-by-step ascent of the heavy boulder, as it is pushed up the hill. A central synthesis technique in the piece uses sound analysis data to automate the selection of other sounds, chosen so as to reinforce and build upon the resonances and spectral form of the wobbles with which they synchronize. I imagine this process of orchestration as inscriptional, as it uses each driving sound to grow coincident sound events ranging from highlighted resonances, spread across the spaceís background field, to foregrounded gestural extrapolations and the antiphonies they inspire. I like to think that this range of sound somehow parallels Sisyphus' experience, as it repeatedly shifts between the intimacy of his studied task and the dramatic erasure of its completion, once the boulder meets its fall.
---
Ladislav Kubík, eminent Czech-American composer and Professor of Composition at the Florida State University College of Music since 1991, passed away in his sleep on October 27, 2017. Kubík's first orchestral works, composed in his teenage years, received their premieres at the Dvořák Hall at the Rudolphinum in Prague. As a student at the Prague Academy of Music, he received diplomas in composition and music theory in the early 1970s, followed by the "Aspiranture of Arts" in composition in 1980. He was the recipient of many awards and prizes, including first prize in UNESCO's International Rostrum of Composers Competition, first prize in the International Franz Kafka Composition Competition, first prize in the National Association of College Wind and Percussion Instructors Composition Contest, two Florida Arts Council Individual Artist Fellowships, and (in 2010) a Guggenheim Fellowship.
Prior to his arrival at FSU, Kubík taught at the Prague Conservatory, at Charles University in Prague, at the Université d'Orsay, and at the University of South Florida. In 1994 he established the Czech-American Summer Music Institute in Prague and taught there annually for two decades; in 1995 he founded the Ladislav Kubík International Prize in Composition, supported by Florida State University, which drew entries from around the world. Kubík's own compositions have been performed in nearly thirty countries and have been widely released on commercial recordings. He was a member of the American Composers Forum, the Music Teachers National Association, the Society of Composers Inc., the Association of Czech Musicians and Musicologists, and the Society of Czech Composers. He will be fondly remembered as a gifted composer, a warm and supportive colleague, and a tremendously insightful and encouraging teacher to generations of students.
My relationship with Ladia was initially one of real estate. His studio is at the far end of this building, on the third floor. When I first started here I was in a studio at the other end of that hallway, and then after two years, I moved down next to where he was, to be his neighbor. I got to know him just because we would meet in passing, but I never really spoke with him…we talked every now and then about music we had heard, concerts we had been to. And then at the beginning of last year, he very sheepishly came up to me and said, "I hope you don't mind, I've written you a piece." And we had initially planned to play it in November of last year. Obviously those plans were put aside, so this is the first time I'll be playing the piece he apologized for writing for me. Getting to know him as it were through this piece, I regret not getting to know him personally when I had the chance. So I hope he enjoys this performance, wherever he is.
– Ben Sung, remarks from the stage prior to the premier of Subterranean River during a memorial concert for Ladislav Kubík
---
Peter Van Zandt Lane is a composer with a creative focus on concert music (especially for wind ensembles), electroacoustic/interactive music, and music for dance. A recipient of the 2018 Charles Ives Fellowship from the American Academy of Arts and Letters, his work has also been recognized by Copland House, Composers Now, the American Prize, and the Lili Boulanger Memorial Prize. He has held residencies at MacDowell Colony, Yaddo, Virginia Center for the Creative Arts, and the Atlantic Center for the Arts. Recently commissioned works include "Piano Quartet: The Longitude Problem" (commissioned by Atlanta Chamber Players); "Radix Tyrannis" (a trombone concerto for Joseph Alessi and American Chamber Winds); "Chamber Symphony" (commissioned by the Barlow Endowment for Equilibrium Ensemble), and "Hivemind" (commissioned by the Sydney Conservatorium Wind Symphony). Peter is Assistant Professor of Composition at the University of Georgia Hugh Hodgson School of Music.
Hivemind is a fast-paced, energetic piece for winds and percussion. Thematically, the piece explores the idea of consensus building. Scattered themes and fragments gradually come together into more cohesive units. Melodies emerge from buzzing textures, trying to make sense of conflicting harmonies. The ensemble is grounded by two percussionists, each with economical and identical instrument setups, who constantly bounce rhythms back and forth from the far sides of the stage (until they, also, coalesce into unity). I like to think of the resulting antiphony as a conversation between the left-brain and right-brain–a spacial and musical dialogue that reinforces the dichotomy between what is structured and what is free; what is anticipated and what is surprising; and between what is cerebral and what is emotive. This piece was commissioned by the Sydney Conservatorium Wind Symphony, under the direction of John P. Lynch.
---
An active composer/pianist, HyeKyung Lee (born in Seoul, Korea) has written works for diverse genres and media: from toy piano to big concerto, from electronic music to childrenís choir. Recent commissions include a 20 minute-long electronic music, Eclipse (written for the University of North Texas Dance department), a music for short film, We could be your parents, by Charlie Anderson, and an hour long multimedia piece, Dreaming in Colours, collaborating with Canaletto ensemble and an artist, Christian Faur. Her music has been suppored by the National Endowment for the Arts, Meet the Composer grant, and residencies at the Villa Montalvo, Djerassi Foundation, Ucross Foundation, Blue Mountain Center, Yaddo, and MacDowell Colony. Her works are available on Pavane, Vienna Modern Master, Innova, New Ariel, Equilibrium, Capstone, MSR Classices, Mark Custom, Ravello recordings, and SEAMUS CD Series Vol. 8. She is Associate Professor at Denison University, Granville, OH.
Shades of Clouds depicts multi-colored clouds and their shadows being temperamental… This is the third movement of the larger piece, Dreaming In Colors, which has 8 movements. Each movement has its own distinctive color and is scored for different instruments.
---
Janice Macaulay holds a DMA degree from Cornell University and a bachelorís and two masterís degrees in English and music from Brown University. Awards include two Best of Category Prizes in the International Delius Competition, several Honorable Mentions from the International Alliance of Women in Music, and grants from Meet The Composer and the National Womenís Music Resource Center. Her music has been performed at the Charles Ives Center for American Music and at conferences of the Society of Composers, Inc. and of the International Alliance of Women in Music. Dr. Macaulay was Associate Professor and Music Department Coordinator at Anne Arundel Community College. She has taught at UMBC since 1995 and at Wells College, Brown University, Cornell University, Peabody Conservatory, and St. Johnís College.
Kaleidoscope refers to the structural idea of small colorful shapes that are combined and recombined into symmetrical patterns (kalos, beautiful; eidos, shapes; skopein, to examine). The piece is in three large sections, and each section employs one of the three different octatonic scales (symmetrical scales alternating half and whole steps). The title also refers to the wonderfully varied colors of the wind symphony. As a personal tribute to Karel Husa, I have quoted a phrase from the Hussite hymn ìYe Warriors of God,î which is so prominent in both Smetanaís M· vlast and Husaís Music for Prague 1968. My piece ends with a quiet codaóa tribute to the sincerity and integrity exhibited by Karel Husa throughout his distinguished life in music.
---
Stephen Montague is an Anglo/American composer born and educated in the USA (Florida State University, Ohio State University). Since 1972 he has been living in Europe, first as a Fulbright Scholar in Warsaw (1972-74), then from 1974 in London where he works as a freelance composer, pianist, and conductor. His works have been performed worldwide by leading ensembles and soloists including the London Symphony Orchestra, Royal Philharmonic, BBC Symphony Orchestra, The National Symphony Orchestra (Washington, DC), Südwestfunk Symphony (Baden-Baden), RTE Orchestra (Madrid), Auckland Philharmonia (NZ).
Recent commissions include the BBC Proms, Birmingham Royal Ballet, UK New Music Biennale, Calgary Philharmonic (Canada), Royal Festival Hall, the Southbank and Barbican Centres, London.
In addition to writing for conventional ensembles Montague has done a number of large scale theatrical events often with hundreds of performers such as the Cage Centennial Musicircus at English National Opera, Centre Pompidou, as well as unusual works like his Horn Concerto for klaxon horn soloist and an orchestra of automobiles, and the Bike Concerto with symphonic brass, percussion and 8 motorcycles for the World Superbike Championships Brands Hatch (UK) with piano soloist James Toesland, twice World Superbike Champion–40,000 in attendance.
As a conductor Montague specializes in contemporary music and recently conducted the Bournemouth Symphony Orchestra (UK), the London Sinfonietta, and Singapore's ReSound Collective Orchestra.
Recent Composer Portraits of Montague's work have taken place in Houston, London, Cambridge, Aberdeen, Vienna, Budapest, Warsaw, Hartford, and Chicago. He is currently Visiting Professor of Composition at FSU 2018-19.
Montague's works are published by United Music Publishing: www.ump.co.uk. His website: stephenmontague.com
Tigida Pipa was commissioned by Elms Concerts London, composed in Ghent, Belgium and completed in London January, 1983. The text consists of invented words (inspired by the text compositions of Frank Denyer) which provide an array of percussive sounds whose inherent rhythmic structures propel the work at breakneck speed through a rondo of sonic colors. London's Financial Times described it as: "…a tongue twisting, tempo-twisting vocal toccata brilliantly sustained," and Opera magazine as: "a virtuoso ritual for percussionists-cum-vocalists, ebullient and inventive far beyond the Steve Reich school of minimalism." The work was commissioned for the professional London based vocal ensemble, Singcircle (Director Gregory Rose) as a virtuoso tour de force.
The original tape part was realized at the IPEM/Belgian Radio Studios, Ghent in 1982-83 and revised later in the composer's London studio, 1989. The premiere was Rosslyn Hill Chapel (Hampstead), London 19 February, 1983. A recording is available on the Continuum label (NZ) 1061 on a CD of Montague's works entitled: Stephen Montague – Orchestral and Chamber Music released in 1994.
---
Robert Morris is Professor of Composition at the Eastman School of Music, University of Rochester, where he has taught for the last thirty-six years. In addition to concert music, Morris has written electronic/computer and improvisational music, and pieces to be played out of doors. He is also known as a writer on topics in music theory, aesthetics, and Indian music Morris is the recipient of grants from the National Endowment for the Arts, the A. Whitney Griswald Foundation, the American Music Center, the Hanson Institute of American Music, and the American Council of Learned Societies. He has been guest composer at many festivals and series of new music, most recently: New Music Festival, MidAmerican Center for Contemporary Music (Bowling Green State University, 2010), New Music on the Point (2015), The University of South Florida at Tampa 2016 New Music Cnosortium. A four-concert festival of his music was held at Spectrum in New York in September of 2016.
Inner Voices was written for my long time friend Richard Becker, composer, pianist, composer, and poet. We were classmates in our undergraduate years at the Eastman School of Music. Fifty years later, we reconnected at the last New Music Consortium at USF in 2016. Inner Voices is introspective, elegiac, and nuanced–qualities I especially admire in Richard's playing. This six minute composition is made like a poem with structural rhymes, assonances, and stanzas, starting simply but eventually becoming complex and ramified and sound and sense–like a theme and variations, but with not much distinction between the theme and the variations.
---
Composer/pianist Ketty Nez joined the Boston University in 2005, after teaching for two years at the University of Iowa. Her folk opera, "The Fiddler and the Old Woman of Rumelia," was premiered in 2011 and staged in 2012, by the Xanthos and Juventas Ensembles, respectively. CD's include "Listen to a Wonder Never Heard Before!" by Albany Records, and thresholds, by Ravello Records. Her chamber opera "An Opera in Devolution: Drama in 540 Seconds," was premiered at the 2003 Munich Festival A•DEvantgarde. Ketty studied at IRCAM in 1998-9, after working with Louis Andriessen. Current projects include the CD release of "four scenes for Juliet" by the BU Wind Ensemble, and "Lina and the Wolf," an opera on the life of Lina Prokofiev (based on the book "Lina and Serge: The Love and Wars of Lina Prokofiev," by Simon Morrison). Ketty holds a Ph.D. from UC Berkeley, a master's from the Eastman School of Music, and bachelor's degrees from the Curtis Institute of Music, and Bryn Mawr College.
Written in the summer of 2016 during the time I was composing "Lina and the Wolf" (an opera based on the life story of Lina Prokofiev), four scenes for Juliet takes as inspiration the story of Romeo and Juliet. The piece's four large sections allude to scenes of "anticipation," "balcony," "echo," and "hush." "Echo" and "hush" began as arias from the opera. "Balcony" treats an abstraction of the contour of one of the love themes from Prokofiev's ballet "Romeo and Juliet." In general, musical textures are juxtaposed, overlapped, and fused in a Mondrian-like manner, with the intention of allowing the listener to perceive simultaneous streams of music (as if looking through scrims on a stage). The work was commissioned by David Martins and the Boston University Wind Ensemble, and premiered by these artists on February 16, 2017, and professionally recorded soon after.
---
Described as "stark" by WNPR, Iranian composer Niloufar Nourbakhsh's music has been commissioned and performed by Symphony Number One, Spark and Echo Project, Women Composers Festival of Hartford, Pianist Erika Dohi for Metropolis Ensemble Piano Series, Calidore and Cassatt String Quartets, and Invoke Quartet at numerous festivals, Atlantic Music Festival, Seal Bay Festival of American Chamber Music, SPLICE institute, New Music for Strings, MusLab electroacoustic festival in Mexico, University of Tennessee Contemporary Festival and more. Nilou is the founder of Iranian Female Composers Association and a strong advocate of music education. She has worked as the site coordinator of Brooklyn Middle School Jazz Academy sponsored by Jazz at Lincoln Center. She is currently a Teaching Artist for NY Philharmonic Very Young Composers program. This summer, she will be working with Akropolis Reed Quintet for a new piece as part of I-Park Foundation Artist in Residence.
F I X E D HbeaRt: I never understood exactly what we are all trying to get to. The ascending lines of HbeaRt are my searching attempts for getting to a solid point. There are several random elements built into the live electronics that resemble the unexpected events of everyday life; yet, we continue to ascend. In the second movement however, I explore the emmotional components of being F I X E D and stuck in a situation, a terminal disease, war, etc. Even in such predicaments, the music begs for action and movement, inspired by the innate nature of life.
---
Born in Cleveland, OH in 1956, James Primosch studied at Cleveland State University, the University of Pennsylvania, and Columbia University, working with Davidovsky, Crumb, and Wernick. He later studied with Harbison at Tanglewood. Primosch's instrumental, vocal, and electronic works have been performed widely by such ensembles as the Los Angeles Philharmonic, the St. Paul Chamber Orchestra, Collage, the New York New Music Ensemble, and the Twenty-First Century Consort. Commissioned works have been premiered by the Chicago Symphony, the Albany Symphony, Speculum Musicae, the Cantata Singers, and pianist Lambert Orkis. He has received are a grant from the National Endowment for the Arts, a Guggenheim Fellowship, three prizes from the American Academy of Arts and Letters, a Regional Artists Fellowship to the American Academy in Rome, a Pew Fellowship in the Arts, the Stoeger Prize of the Chamber Music Society of Lincoln Center. 20 of his compositions have been recorded for CD.
When I asked my friend Susan Stewart to write a set of poems for a new work for soprano, she responded with reflections on the mysterious prophetess spoken of in Virgil and Ovid. The sibyl sings of her prophecies written on leaves, and of how the god possesses her; she warns Aeneas before his descent to the underworld; she celebrates the moon. Having been granted eternal life, but failing to ask for eternal youth, she is reduced to no more than her voice. I understand the sibyl as an archetype of the musician who sings for us of fate and the mysteries of life, death, and love; who guides us in moonlit and shadowy places; and whose prophetic voice resounds unendingly, in power, and in vulnerability. A Sibyl was written for Collage New Music on a commission from the Fromm Music Foundation.
---
Jim Rhinehart is a composer, pianist, and teacher who loves to do music. He composes for the concert hall and for commercial projects; he plays jazz and classical piano and enjoys collaborative music making; he is an assistant professor of theory and composition at Ball State University, and has also taught at the middle- and high school level. He likes to eat, to cook, and to run, which allows him to cook and to eat more.
Peppercorn Suite: Movement 1: Black for soprano and alto saxophones. The most common type of peppercorn, these are cooked green peppercorns that are then dried. They have the strongest flavor of the peppercorns. Movement 2: Pink for two soprano saxophones. Not actually peppercorns at all, but rather berries from a South American shrub. Most often used for garnishing, they have a delicate, floral taste. Movement 3: Green for alto and tenor saxophones. These are underripe black peppercorns that are often pickled. They have a fruity, slightly tart flavor. Movement 4: White for baritone and tenor saxophones. White peppercorns are simply black peppercorns that have been soaked and had the skins removed. The taste is less pungent, but more intense than black peppercorns.
---
Paul Richards is Research Foundation Professor and Head of Composition at the University of Florida. His works have been heard throughout the United States and internationally on six continents. Awards include Special Distinction in the ASCAP Rudolph Nissim Prize, the Jacksonville Symphony Orchestraís Fresh Ink composition prize, the New Music for Sligo/IMRO composition prize, the Flute New Music Consortium composition prize, and many others. Commissions have come from orchestras, wind ensembles, choirs, and chamber ensembles, and his works have been recorded by Richard Stoltzman, the Slovak Radio Orchestra, the Moravian Philharmonic, and numerous chamber groups. Music by Paul Richards is recorded on the Meyer Media, MMC, Capstone, Mark, Pavane, OAR, and Summit labels, and is published by Carl Fischer Music, TrevCo Music, the International Horn Society Press, JeannÈ, Inc., and Margalit Music.
Found in numerous ancient cultures, an ouroboros is a depiction of a serpent or dragon eating its own tail, typically symbolizing eternity or cyclicality. Many of the musical materials in this work are cyclic in nature, with scales or interval patterns that are recursive in some way, exploring suggestions of infinity within a finite space. Ouroboros was composed in 2017 for the Bold City Contemporary Ensemble.
---
Alejandro Rutty's compositional output includes orchestral, chamber and mixed-media music, arrangements of South American traditional music, and innovative outreach projects. A unique feature of Rutty's music is its affection for textures suggested by modern recording processing techniques, and the use World Music genres as part of the music's surface. Rutty's compositions have been played by the Boston Modern Orchestra Project, Indianapolis Chamber Orchestra, National Symphony Orchestra of Argentina, National Symphony Orchestra of Brazil, Porto Alegre Symphony Orchestra, American Modern Ensemble, and others. His latest album "Exhaling Space" (Navona Records) featuring Rutty's recent chamber music was released on March 2018. Alejandro Rutty is Associate Professor of Music at the University of North Carolina at Greensboro.
As You Say: A conversation with the nods, the "buts", the "ifs"…
---
Graeme Shields (b. 1992) is a Canadian-born composer residing in Kalamazoo, MI. Currently working as an organist in southwest MI, he has had works performed in the US, Canada, and Russia. As an instrumentalist, Graeme is a co-founder of the composer/organist duo Vital Organ Project where he operates as a recitalist, lecturer, and composer. He has held numerous music director and organist positions around the Midwest and his accompanying has taken him from state festivals to Istanbul, Turkey. Winner of numerous academic scholarships, Graeme has secured artist residencies in the US and Canada. He holds degrees in Music Theory and Composition from the University of Minnesota-Duluth and Western Michigan University.
A Mighty Fortress (Ein feste Burg) was written by Martin Luther (1483-1546) whose 95 Theses that challenged aspects of the Roman Catholic Church initiated the Protestant Reformation. form reform was composed for the 500th Anniversary of this reformation and utilizes the first stanza of Luther's melody, heavily altering the rhythm and iterating the contour through chord clusters that are constructed and deconstructed throughout. The stanza also appears in fragments throughout the piece but is never presented as clearly as in its final iteration.
---
The innovative and highly energetic music of Rob Smith is frequently performed throughout the United States and abroad. His music has received numerous awards, including those from the Aaron Copland House, ASCAP and the National Band Association. Commissions have come from the Texas Music Festival Orchestra, the New York Youth Symphony Chamber Music Program, the American Composers Forum, and many university wind ensembles, among others. In 1997, he was the recipient of a Fulbright Grant to Australia, which led to a teaching position at the University of Wollongong in 1998. From 2003-2014 he served as one of the artistic directors of Musiqa, a contemporary chamber ensemble in Houston. Currently, he teaches at the University of Houstonís Moores School of Music where he is Associate Professor of Music Composition and Director of the AURA Contemporary Ensemble. Boosey & Hawkes, Carl Fischer, C-Alan Publications, and Skitter Music Publications publish his music. http://robsmithcomposer.com Morse Code Pop uses a syncopated theme that mimics the sound of a Morse code signal. Originally composed as a duet for alto and baritone saxophone for Valerie Vidal and Elizabeth Owsijuk, the work was subsequently arranged for soprano and alto saxophone duo, at the request of Elizabeth Rosinbum and Jessica Voigt for a performance at the 2015 World Saxophone Congress in Strasbourg, and saxophone quartet, at the request of Dan Gelok, the saxophone professor at the University of Houston, Moores School of Music, for a performance at the 2016 Texas Music Educators Association annual conference.
---
Ash Stemke (b. 1991) "simply composes music he wants to hear, because it is beautiful, spouts no unpleasant theories, and manages nonetheless to avoid the too-well-known and trite." (Steven Kruger, New York Arts). Aesthetically, Ash's music is unified through elements of symmetry (proportion, balance, and self-similarity) and trajectory (teleology, argumentativeness, and transformation). In 2020, his 2014 film score to Georges Melies silent film Le Voyage dans la Lune will be sent on a literal trajectory 238,900-mile journey to the moon (!) as part of Carnegie-Mellon University's MoonArk project. Ash recently won first prize in the San Francisco Choral Artists' New Voices Project and has had music programmed by organizations such as the Boston New Music Initiative, New Music on the Bayou, and NSEME. Ash is currently a doctoral candidate (ABD) at Florida State University, where he studies composition with Clifton Callender and Ellen Taaffe Zwilich. www.ashstemke.com
I. Freshwater; II. Saltwater; III. To New Shores; The undulating feeling of push-and-pull found in river and ocean waters extends into every aspect of Currents: rhythmic vigor, metrical drive, harmonic tension, and melodic fluidity. Inspired by the interconnectivity of all bodies of water, Currents follows a coursing river in its downhill surge, where it reaches a placid sea before flowing on "to new shores."
---
Stephen Andrew Taylor (1965-) composes music that explores boundaries between art and science. His first orchestra commission, Unapproachable Light, inspired by images from the Hubble Space Telescope and the New Testament, was premiered by the American Composers Orchestra in 1996 in Carnegie Hall. Other works include the quartet Quark Shadows, commissioned by the Chicago Symphony; Paradises Lost, an opera based on a novella by Ursula K. Le Guin, received its Canadian premiere in 2013, conducted by the composer. Besides traditional instruments, Taylor also works with technology in pieces such as Ocean of Air (2017) for Detroit Symphony principal trombonist Kenneth Thompkins, and Indian Hedgehog for saxophone and electronics, premiered by Debra Richtmeyer in Strasbourg in 2015. He grew up in Illinois and studied at Northwestern and Cornell Universities, and the California Institute of the Arts. A 2014-15 Fellow of the Guggenheim Foundation, he teaches at the University of Illinois.
In August 2017 our family saw the total eclipse. It was like nothing in the world Iíve ever seen, and weíre making plans for the next one on April 8, 2024. The moments just before totality, in the words of a friend, look like sunset in all directions. I was loosely thinking of the cello solo as the Moon; the low, brooding instruments as the Earth; and the highest, brightest instruments as the Sun. After introducing all three, the main part of the piece begins with a fast, spinning motive in the cello. The form of the piece consists of three celestial events: two partial eclipses, which I think of as ìnear misses,î and finally, the total eclipse. Twice, cross-rhythms in the two percussionists grow closer together, only to just miss each other. Then on the third attempt, after a cello cadenza, the percussive cross-rhythms once again grow closer, and finally join together as the strings all reach the same note, spread across eight octaves.
---
John Wiggins is an award winning sound designer for TV and films and in 2017 won honorable mention at MA/IN InterMedia and Luc Ferrariís ìPresque Rienî competition. Using only sounds he records himself, he assembels short ìsound filmsî, made from everyday objects.
I record all the sounds I use in my studio and in the field. I only use ìM/Sî stereo mic techniques because I can more easily manipulate the resulting ìthree tracksî. I listen to my environment and record it. Then compose with dynamics, space, timbre, unfamiliarity, fun! Edited, mixed and combined - I find myself. Think Outside was made with recordings from January ñ March 2018.
---
Mark Wingate is a composer on the faculty of the College of Music at Florida State University, and Director of Electroacoustic Music. He came to FSU after co-founding and directing the Electronic Arts Studio at Istanbul Technical University in Turkey. He holds a D.M.A. from the University of Texas, during which time he composed electronic music at EMS studios in Stockholm as a Fulbright Scholar to Sweden. A subsequent travel grant from the National Endowment for the Arts allowed him to write theater music in Caracas, Venezuela.
Wingate has received the Rome Prize from the American Academy in Rome, a Guggenheim Fellowship, and a National Endowment for the Arts Composer Fellowship. His electroacoustic music has been performed at the International Society for Contemporary Music's World Music Days (Copenhagen and London), the Autumn International Festival of Contemporary Music (Warsaw), Festival Rien à Voir (Montreal), the Acousmatic Experience as well as the Gaudeamus Festival (Amsterdam), the Pierre Schaeffer Concert de Bruits (Perugia), and many others.
His compositions have received the Stockholm Electronic Arts Award, the Prix de la Musique Electroacoustique Caractère (Bourges, France), Prix Ars Electronica Honorable Mention (Austria), and others. His music can be heard on Bridge Records, Centaur Records, empreintes DIGITALes Records, Fylkingen Records, and Mnémosyne Musique Média Records UNESCO/CIME.
Montague: DECODED!
for fixed media, 2018
Composer Stephen Montague's name in Morse Code renders a fascinating rhythmic composite. It permeates this musical homage to Steve and represents a common (or uncommon) thread in much the same way his influence continues to weave its way through people's lives he has known through the years — mine included.
---
Nicholas Yamamoto (b. 1995) is a composer of acoustic and electroacoustic music. He is interested in the abstraction and juxtaposition of sound to transform aural image, subject, and environment. His work draws from a variety of social, physical, and aural experiences that can be encountered both inside and outside of the concert hall to create personal, evocative, and intense musical experiences. Recent compositions explore the connection between the performer, the audience, and their environment. This exploration stems from a multi-faceted career as a theatre collaborator and technician, most recently producing a work for James Turrellís Twilight Epiphany Skyspace at Rice University titled, ìa meditation on turrellî. Other recent works include dis.integrations for saxophone, written for the Moody Center for the Artsí installation of Josiah McElhenyís Island Universe, utilizing the unique acoustic qualities of the gallery. He is a graduate of the University of Illinois at Urbana-Champaign.
Fixed Objects on a Moving Plane is an acousmatic composition designed for quadraphonic performance. This composition emphasizes the absence of visual data in order to create a spatially-flexible sonic environment. I seek to abstract the visual and physical identity of objects to illuminate their intrinsic musical properties. The sonic environment fluctuates to bring life and breath to the sound world, just as our own environments are constantly breathing and changing.
---
Roger Zare has been praised for his ìenviable grasp of orchestrationî (New York Times) and for writing music with ìformal clarity and an alluringly mercurial surface.î Often inspired by science, nature, and mythology, his works have been performed across the United States and on five continents by such musicians and ensembles as the American Composers Orchestra, the Minnesota Orchestra, Boston Musica Viva, the Donald Sinta Quartet, violinist Cho-Liang Lin, and clarinetist Alexander Fiterstein. Zareís awards include the ASCAP Nissim Prize, three BMI Student Composer Awards, an ASCAP Morton Gould award, the 2008 ACO Underwood Commission, a Copland House Residency Award, and a Charles Ives Scholarship from the American Academy of Arts and Letters. Zare holds degrees from the University of Michigan, the Peabody Conservatory, and the University of Southern California. Zare currently serves as an instructional assistant professor of music theory and composition at Illinois State University.
Inferno describes the famous fate of the Phoenix bird ñ its death and rebirth by fire. It begins with a frenzied build that yields to a moto perpetuo theme of running 16th notes, ducking and dodging and heating up. Eventually, it explodes into a rhythmically charged section, punctuated by col legno strings and a syncopated interplay between brass and winds. The running moto perpetuo idea returns after a sizzling encounter with harmon-muted brass, and proceeds to a massive chorale. From this point until the end, the music swirls and burns as the Phoenix bird is engulfed in an out-of-control blaze of glory.
---
about
Patricia Flowers, Dean
Grady Enlow, Interim Associate Dean for
Community Engagement and Entrepreneurship
The Residencies of Georg Friedrich Haas and Meitar Ensemble are provided by the Wiley and Lucilla Housewright Eminent Scholar Chair in Music.
Additional funding for the Nineteenth Biennial Festival of New Music provided by The Florida State University College of Music
Festival Committee
Deborah Bish
Michael Buchler

Clifton Callender, co-chair
Evan A. Jones, co-chair
David Kalhous
Benjamin Sung
Mark Wingate
Many thanks to:
Heather Mayo, Director of Production for the Festival
Wendy Smith, Publicity Officer
Ash Stemke, Logistical Liaison
---